GLO-BALLS Made By  ModMyPin.com
| | | | |
| --- | --- | --- | --- |
| Pearl White | Brilliant Blue | Hot Pink | Awesome Orange |
| | | | |
| Radical Red | Lightening Yellow | Slime Green | Glow in the Dark |
| | | | |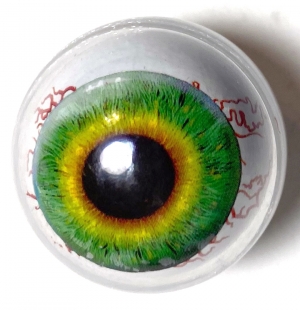 Mix And Match Your Choice Of Florescent Colors Singles Florescent Balls Are $18USD Per Ball (+ Shipping)
Single Glow-In-The-DARK Balls Are $22USD Per Ball (+ Shipping)
Single Eye-Ball's Are $25USD Per Ball

(+ Shipping)
Here's What I Have In-Stock And I Don't Plan To Carry Singles Once These Are Gone:
2 Ea. – Radical Red $18USD Each

2 Ea. – Brilliant Blue $18USD Each
1 Ea. – Awesome Orange $18USD Each
1 Ea. – Pearl White $18USD Each

$18USD Each + Shipping

3 Ea. – Eye-Ball's 
$25USD Each + Shipping
I NO LONGER SELL FULL SETS OF GLO-BALL's – PLEASE PURCHASE THEM DIRECTLY FROM THEIR MANUFACTURER: https://shop.modmypin.com/index.php
ALL GLO-BALLs  Weigh 60 Grams Each (Florescent Colors And G-I-D)
GLO-BALLS  Are The Same Weight As The Original Viper Night Driving G-I-D Balls
They're Also The Same Weight As The Ceramic Power-Ball In Bally's Twilight Zone [BUT They Are Magnetic As They Have A Solid Metal Core]
A Regular 1 & 1/16″ Pinball Weighs 80 Grams So These Are Super Fast Compared To A Standard Pinball
TO HELP KEEP YOUR GLO-BALLS LOOKING LIKE NEW
ALWAYS COMPLETELY CLEAN

YOUR PLAY FIELD, RAMPS, BALL-TROUGHS & SUBWAYS

BEFORE

YOU INSTALL YOUR NEW GLO-BALLS.
PLEASE NOTE: BLACK RUBBER RINGS ARE ALWAYS SHEDDING LITTLE BITS OF RUBBER, SO IF YOU'RE EVEN THINKING ABOUT CHANGING OUT YOUR GAMES's RR's TO ANOTHER COLOR OR TYPE [TITAN-SILICON OR URETHANE] DO IT WHEN YOU'RE CLEANING YOUR PF AS NOTED ABOVE!
---