Tron Legacy [TRON]
THE ORIGINAL FLYNN SIGN DESIGNED BY MIKE @ DK PINBALL WILL SOON BE AVAILABLE FROM KIMBALL's PINBALL's !!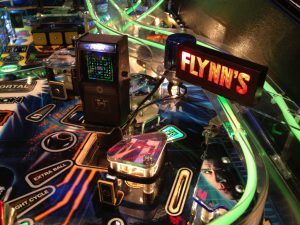 TRON Legacy Recognizer MOD
Fits TRON-LE & TRON-Pro, They Can Be Ordered In Your Choice of 2 Different Color Down Lights (All Recognizers Come With Orange Up-Lights To Emphasize The Cabin Plastics).
$135USD + Shipping
– Brilliant Deep Blue LED's
– Bright Cool White LED's
Two Wiring Harness Types Are Available That Have Different Characteristics – Each Recognizer Comes With Your Choice Of 1 Of The 2 Types:
12V Wiring Harness Fits Both TRON-PRO & TRON-LE:
Plugs Into The Factory 12V/5V Source Behind The Coin Door Under The Right Flipper Button And The Recognizer LED's Are On All The Time.
24V Wiring Harness Fits TRON-LE Only:
Plugs Into The Recognizer Motors Wiring Harness – The Recognizers LED's Are On ONLY When The Recognizer Is Moving – The Recognizers LED's Are Off When The Recognizer Is Stopped (Middle Position) & Flashes Off Very Briefly At Far Left & Far Right (When The Recognizers Motor Changes Direction).
If You Can't Make Up Your Mind For Your LE, Order Both Wiring Harnesses For An Additional $10
LED's (Blue) On All The Time:
LED's (Blue) Only On When Recognizer Is Moving:
TRON-LE Recognizer with Cool White Down-LED's:
TRON-LE Recognizer with Blue Down-LED's:
TRON Legacy Hallmark Light Cycle MOD
TRON Hallmark Light Cycle Wiring Harness
– DIY:
Solder In Style:
You Solder To The Battery Contacts In Your Light Cycles – $60USD + Shipping
         
TRON Hallmark Light Cycle Wiring Harness
– DIY:
Plug & Play (Has Simulated Batteries) – $75USD + Shipping
      
TRON Hallmark LIGHT CYCLES And Wiring Harness –
Fits both TRON-LE & TRON-Pro:
Plug & Play – Comes With Both The Flynn And CLU Light Cycle Plus A Custom Wiring Harness,
Both Light Cycles Are On All The Time

, The Light Cycles Come Pre-Drilled & Tapped With New Mounting Screws (Mounts To Your Existing Ramp  Plastics) – $165USD + Shipping
TRON Hallmark Light Cycle Wiring Harness Kit – Plug & Play:
WITH PinBits Laser Cut Plastics Protectors (.060 PETG) w/Micro Switches Wired To The Hallmark LC Internal Timer Electronics – LC's Turn On Each Time You Make Their Ramp Shot And Stay On For Roughly 18 Seconds
Happy To Use Your Hallmark Light Cycles Or I Will Supply LC's At Their Lowest Current Replacement Cost From eBay or Amazon
Shown w/Protective Film Still Installed (Sometimes Blue Sometimes Frosted) The PETG Is Crystal Clear When Removed
$165USD + Shipping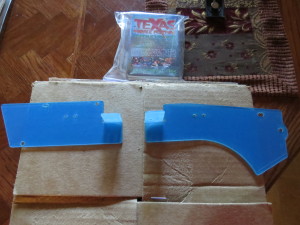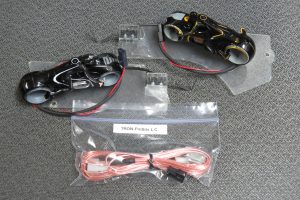 All LC MOD's Plug Into The STERN Factory 12V/5V Outlet Just Behind & To The Right Of The Coin Door
TRON Legacy: LED Apron Lighting Kit Wiring Harness
You Can Pick Your LED Colors – Cool White, Ice Blue (Very  Slightly Bluish C.W.), Warm White, Blue, Red, Green, Amber/Orange OR Any Mix That You Want
$50USD + Shipping
---