TRON Legacy [STERN – 2011]
THE TRON LEGACY FLYNN SIGNS DESIGNED BY MIKE S. OF DK PINBALL   
!! BACK

IN-STOCK NOW !!



These Now Include An In-Line
Single Color

LED Controller For Various Modes And The Speeds Of The Mode Selected [Comes Pre-Set To The Mode & Speed Most Similar To An Old Flashing Neon Sign IMHO] OR LED's Solid ON With Adjustable LED Brightness
Includes Mike's Original "HOME OF SPACE PARANOIDS" PF Plastic To Replace The Now Redundant "FLYNN" Plastic To The Right Of The Scoop And Above The Flasher
Starting 08/2022 The Brick Facade Is Now Significantly More Realistic And
EVERY

Signs Brick Design Is Unique
$170USD

+ Shipping & PayPal Fees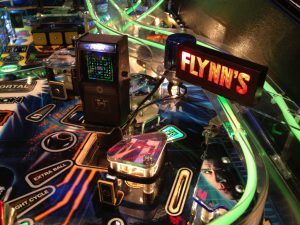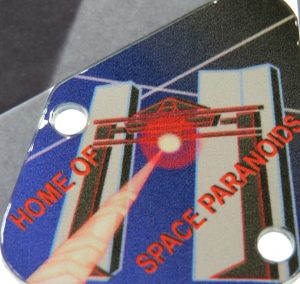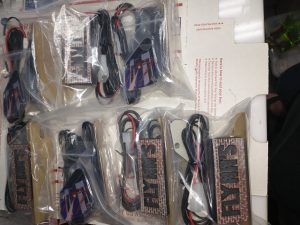 Translucent White Triangular Apron Plastics For STERN Metal Triangular Cut-Out Apron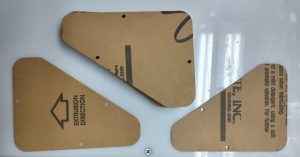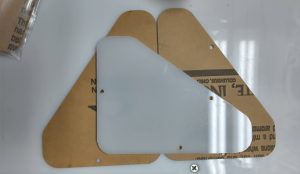 $30USD Per Pair Or $18USD Each  + Shipping & PayPal Fees
The Stern Metal Aprons [
#535-0415-00

] With Triangular Cut-Outs Are Happily Available

AGAIN

@ PinBall Life

https://www.pinballlife.com/stern-metal-bottom-archapron-with-triangular-cutouts-raw.html
TRON-LE Legacy: LED Apron Lighting Kit Wiring Harness
Bright COOL WHITE On The Left (For CLU) And Brilliant ICE-BLUE On The Right (For Flynn).
Works Best With The Translucent White Apron Plastics Available Below
$65USD + Shipping & PayPal Fees
TRON-PRO

– Please Email To Discuss – This MOD Requires A High Level Of Pinball Knowledge And Some Wiring Skills [i.e. Inserting New Wires Into The Existing IDC Connector In Your BackBox]
$95USD + Shipping & PayPal Fees
TRON Legacy Recognizer MOD
Fits TRON-LE & TRON-Pro, They Can Be Ordered In Your Choice of 2 Different Color Down Lights (All Recognizers Come With Orange Up-Lights To Emphasize The Cabin Plastics) $175USD

+ Shipping & PayPal Fees



– Brilliant Deep Blue DOWN-LED's
OR
– Bright Cool White DOWN-LED's
Two Wiring Harness Types Are Available That Have Different Characteristics – Each Recognizer Comes With Your Choice Of 1 Of The 2 Types:
12V Wiring Harness
Fits
BOTH TRON-PRO & TRON-LE
:
Plugs Into The Factory 12V/5V Source Behind The Coin Door –
The Recognizer
LED's Are On All The Time
24V Wiring Harness Fits TRON-LE ONLY

:
Plugs Into The Factory Recognizer Motors Wiring Harness – The Recognizers

L

ED's Are ONLY ON When The Recognizer Is Moving – The Recognizers LED's Are Off When The Recognizer Is Stopped (Middle Position) & Flashes Off Very Briefly At Far Left & Far Right (When The Recognizers Motor Changes Direction).
     If You Can't Make Up Your Mind For Your LE, Order  Both Wiring Harnesses
For An Additional $20
LED's (Blue) On All The Time:
LED's (Blue) Only On When Recognizer Is Moving:
TRON-LE Recognizer with Cool White Down-LED's:
TRON-LE Recognizer with Blue Down-LED's:
TRON Legacy Hallmark Light Cycle MOD
TRON Hallmark Light Cycle Wiring Harness Fits TRON-Pro/LE
– DIY:
Solder In Style:
You Solder To The Battery Contacts In Your Light Cycles – $70USD
+ Shipping & PayPal Fees
         
TRON Hallmark Light Cycle Wiring Harness Fits TRON-Pro/LE
– DIY:
Plug & Play (Has Simulated Batteries) – $85USD + Shipping & PayPal Fees
      
Game Play Integrated TRON Hallmark Light Cycle Wiring Harness Kit – Plug & Play:
PLEASE NOTE

– THE HALLMARK LIGHT CYCLES ARE-NOT-INCLUDED
HOWEVER THEY CAN BE PROVIDED AT AN ADDITIONAL COST:

I Can Use Hallmark Light Cycles Provided By You Or I Can Supply Them At Their Lowest Current Cost From eBay or Amazon – I Try To Keep A Pair (or Two ;-}) In Stock For A Faster Turn-A-Round

DON'T BE FOOLED BY THE LOWER PRICED KITS AVAILABLE W/LIGHT CYCLES, THEY ARE SIMPLY

ON ALL THE TIME

AND DO-NOT INCLUDE PLASTIC PROTECTORS TO PROTECT THE UNDERSIDE OF YOUR GAMES PRINTED RAMP PLASTICS
My Game Play Integrated Plug "n" Play Kit Comes With PinBits Laser Cut Plastics Protectors (.060 PETG) w/Micro Switches Wired To The Hallmark LC Internal Timer Electronics – LC's Turn On Each Time You Make Their Ramp Shot And Stay On For Roughly 18 Seconds
Shown w/Protective Film Still Installed (Sometimes Blue, Sometimes Frosted, Or A Mix) The PETG Is Crystal Clear When Removed
$200USD
+ Shipping & PayPal Fees

(Light Cycles

Are

NOT INCLUDED

)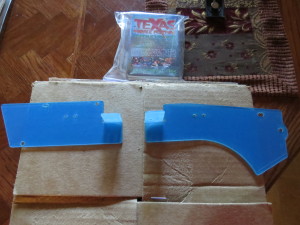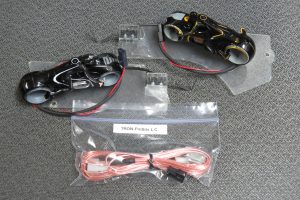 All LC MOD's Plug Into The STERN Factory 12V/5V Outlet Just Behind & To The Right Of The Coin Door
TRON – LE Apron Decals
TRON – LE/Premium Apron Decal Sets –
Available At Marco Specialties

For $40.00US + Marco's Shipping To Me + Shipping To You & PayPal Fees
(If You Are Outside The USA Let Me Know, I Can Purchase Them For You And Ship Everything Together)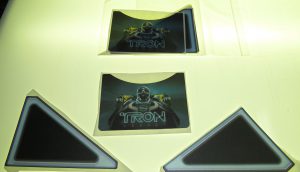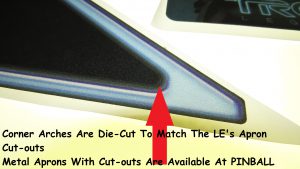 Marco Has These Decal Sets
Buried

On Their Web Site: LINK
---